By

Theresa DeSouza

Cause in
The Path Often Traveled – Why Returned Peace Corps Volunteers Find Fair Trade
When a Peace Corps volunteer returns from spending two years working overseas with counterparts struggling to earn a sustainable living, it's not uncommon for the RPCV to end up involved in Fair Trade.
Source: The Path Often Traveled – Why Returned Peace Corps Volunteers Find Fair Trade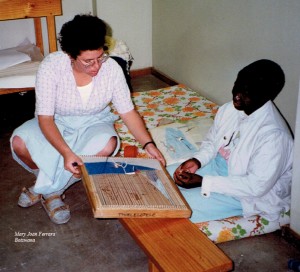 Mary Joan Ferrara set off for Botswana in 1989 to run a weaving workshop for people with disabilities. She has worked with the Guatemalan artisans of UPAVIM, one of the founding member organizations of the FTF, since 1998.
"It wasn't until I started working in my current position that I realized that everything I did in running my workshop was following fair trade principles and it was my life's work," Mary Joan said. "It was so instinctual to me for [the Botswana weaving workshop] Twelelopele to follow the core principles of fair trade. The artisans got a fair wage for their work in a safe and fair working environment.  It was very satisfying to help these people with disabilities become so empowered by their ability to help their families buy food and supplies and be productive members of their communities."